With Tampa Bay bringing the heat year-round, we're always looking for a great spot that allows for a romantic date night and lets you cool off as well. Most people don't realize this, but many popular hotels allow access to their pool via a day pass or even simply purchasing cocktails or a meal. Take a look at our favorite Tampa spots that allow you to relax – or party – poolside.
Seminole Hard Rock Hotel and Casino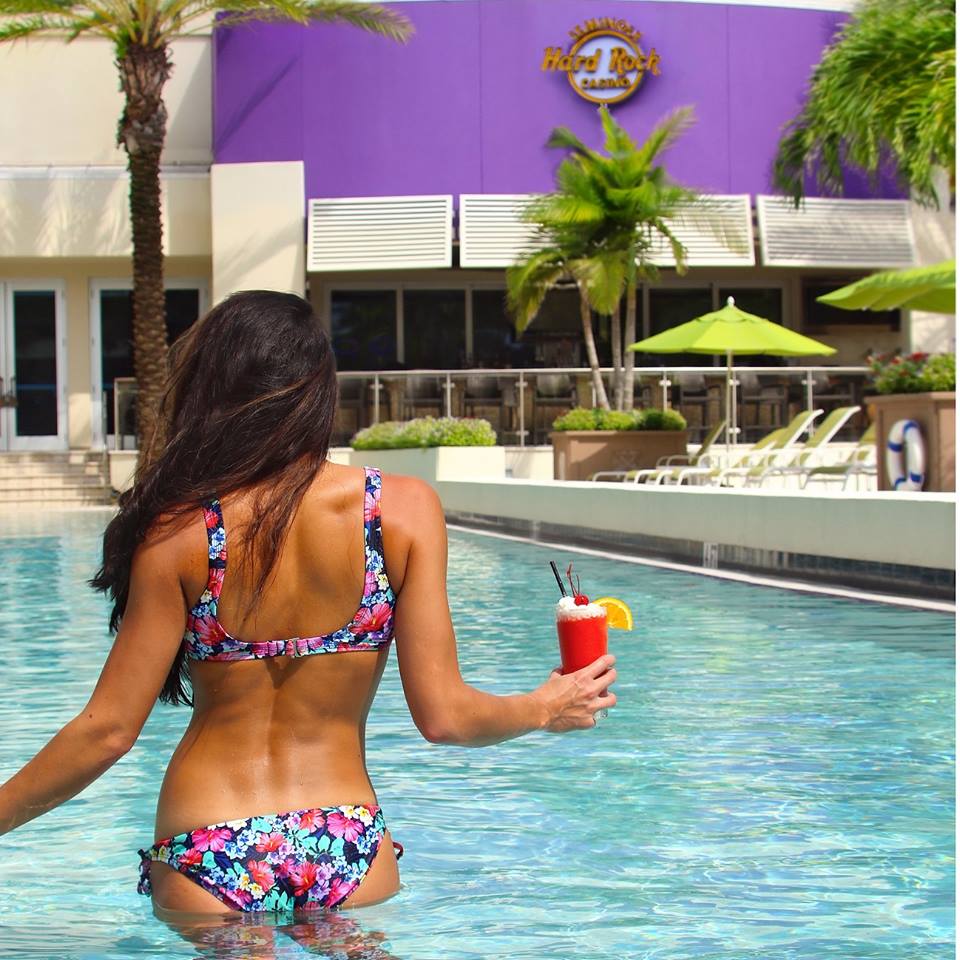 Take a walk on the wild side at Seminole Hard Rock Hotel and Casino in Tampa. Known for their amazing pool parties, you are free to lounge by the pool either during one of their parties or to enjoy a few appetizers and a cocktail…because you know by the time you're done you're going to be ready for a few games of Blackjack! SeminoleHardRockTampa.com
Epicurean
All summer long, the Epicurean is offering a Summer Splash event on the second Sunday of every month from 1pm to 6pm. Relax by the pool to the cool sounds of a DJ Fresh and the Certified Fresh DJs, enjoy a barbecue meal from the Green Egg BBQ and some cocktails, and take a dip in the water with an assortment of fun floats to cool off from that hot summer sun. At only $15 to enter or splurge at $250 for the VIP section – complete with full bottle service – this is a great deal to enjoy a date night or girls night. Marriott.com
Grand Plaza Hotel
For a more relaxed vibe on the beach, look no further than the Grand Plaza Hotel on St. Pete Beach, only a mile or so away from the Don. Relax and soak up some rays as you peruse their pool snacks menu. A server will come right to your lounge chair to take your order…no need to wait in line at any food counter!
Nightly live music is offered so you can relax by the pool and order a meal with some cocktails, or relax in the sand and watch the sunset as a live band plays.The Grand Plaza Hotel offers a fun and casual beach vibe, with a full menu of delicious bites at their restaurant, Bongos, which even offers sunset shots! No pool pass is required, as long as you dine at one of the Plaza's restaurants. GrandPlazaFlorida.com
Don CeSar
Lounge in the lap of luxury at the Don CeSar on St. Pete Beach. When you purchase a day pass for only $50 (plus tax) from Monday thru Thursday, you can enjoy all that the Don has to offer – from the best appetizers and cocktails, a tranquil pool to relax, and of course a view of one of the best beaches in the nation. Keep in mind that a prior reservation is required for your day pass, and is based on availability, and parking at the Don is $25 (plus tax). DonCeSar.com
Feature Image Credit: Don CeSar