If you're craving breakfast fare or just want some good ole' American comfort food, diners offer exactly what you're looking for. These are excellent date options if you're on your way to the beach or making your way back from an adventure. With a friendly atmosphere and laid back menu, simple but delicious is what you'll get every time.
Here are some of the best diners in Tampa Bay
Three Coins Diner is located just east of Seminole Heights. No matter what time of day, this diner has got you covered as it is open 24 hours, 7 days a week. This Seminole Heights Landmark serves classic American diner fare including breakfast all day and rotating specials. You are guaranteed quick service from this spot that's been serving comfort foods since 1984. Make sure to try the biscuits and gravy!
This hidden gem is located on Bay to Bay Blvd. in the heart of South Tampa. Pinky's offers breakfast, brunch and lunch until 2 pm. Pinky's serves up classic breakfast items like pancakes from scratch, frittatas, and benedicts. This quant little spot is well loved by locals so make sure you get there early!
You can enjoy this diner at both of its locations in St. Pete and Seminole Heights! This neighborhood restaurant offers a variety of simple food including breakfast all day and classic comfort foods like meatloaf and country fried steak. With an old diner atmosphere and outdoor seating, you'll feel right at home at Trip's. Customers rave about their pancakes and French toasts. Make sure to try the Shrimp and Grits for lunch!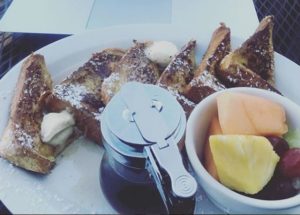 Skyway Jacks is a quirky little spot in St. Pete that's been serving breakfast since 1976. You'll know you're there when you see the Humpty Dumpty statue on the front lawn or the giant rooster just outside the door. Whether you're on your way to or from the beach, this is an excellent spot for breakfast, lunch, or dinner with your date.