Florida is known for beautiful white sand beaches, but there is much more the Sunshine State has to offer. If you're ever in the mood to get outdoors and feel like you're trekking through the forest, Florida has many different caves and caverns that will give you a unique experience you'll want to tell everyone about. Check out these nine different places where you can go cave exploring and jump over to the wild side.
Cave Exploring — Hiking
Dames Cave
Peace Cave
Leon Sinks Geological Area
Florida Caverns State Park
Dames Cave
Trail 22, Lecanto, FL 34461 | Open: All year
Only an hour and a half away from Tampa is the stunning Dames Cave. It's one of the oldest caves in Florida and can be reached through a short and comfortable 1.2-mile roundtrip hike from an unofficial parking area along County Road 491. There you will find the cave opening, which was created after an ancient roof collapse. The opening connects to a land bridge which daring people can walk across. Parking is free because there are no actual designated parking spots, but you will find plenty of cars there. Head on over and take in a day of cave exploring!
Up for a longer hike? Experienced hikers can follow this detailed hike along Citrus Trail (D Loop) with a side trip to visit the cave. This is an all day excursion!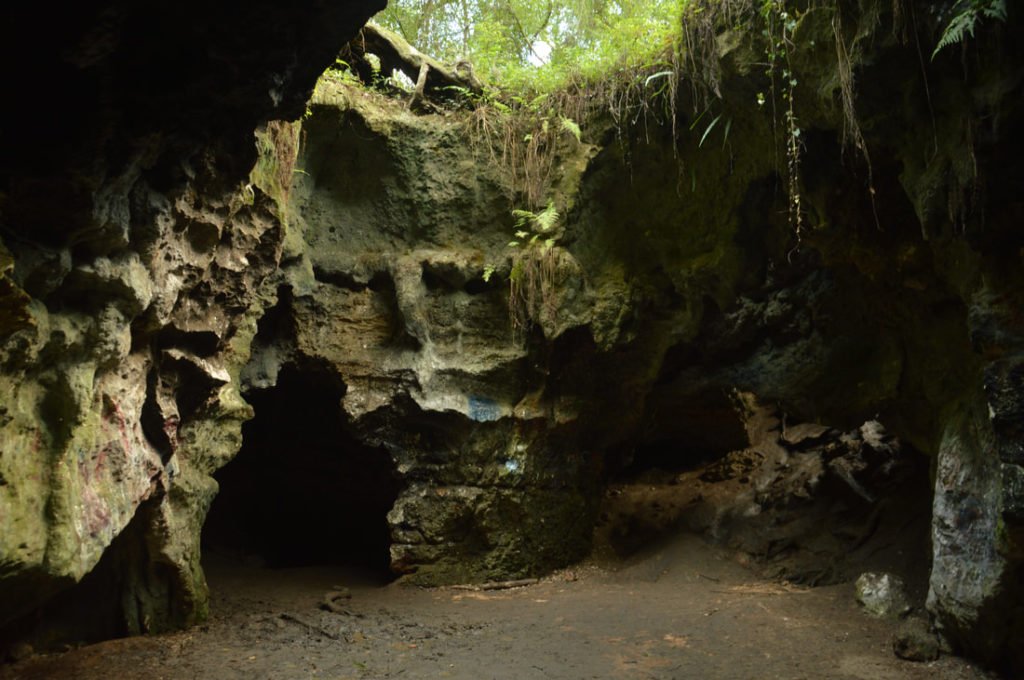 Peace Cave
Co Rd 491, Lecanto, FL 34461 | Open: All year
If you want to knock two caves out in one day, Peace Cave is only a short walk away from Dames Cave. Make sure to bring a flashlight so you are able to admire this wonderful creation of nature. Unfortunately, like Dames Cave, some people have vandalized the cave with graffiti, but that does not seem to take away from the overall sights. Be open-minded and explore a lesser-known Florida attraction.
Leon Sinks Geological Area
2564 Wildflower Rd, Tallahassee, FL 32305 | Open: All year
Just south of Tallahassee lies Leon Sinks Geological Area, where you can find 5 miles of trails filled with deer, turkey, hawks, and sinkholes of many shapes and sizes. You can also find some awesome limestone caverns and tunnels that were formed by natural erosion over the years for some great cave exploring. The cost is $5 per car, so it is definitely a cheap way to be out in nature with your significant other. Note: There is ongoing construction in the area with occasional unscheduled closures and trail blockers in place to keep visitors away from construction zones.
Florida Caverns State Park
3345 Caverns Rd, Marianna, FL 32446 | Open: All year
Heading to the Panhandle for a Gulf coast vacation? Plan to stop at Florida Caverns State Park for a guided walking tour of the park's stunning caverns, which are rich with stalactites, stalagmites, flowstones and draperies set aglow by colorful cavern lights throughout the passageways. The park sustained significant damage from Hurricane Michael in 2018, including to the electrical system that lit up the caves. Luckily, the park has recovered and visitors can now see the wonders again for themselves. Other draws to the park include bike trails, a swimming area, boating and spacious campsites Cave tours are $10.75/person and are offered on a first-come, first-served basis Thursday through Monday. There is a $5 fee per vehicle, as well.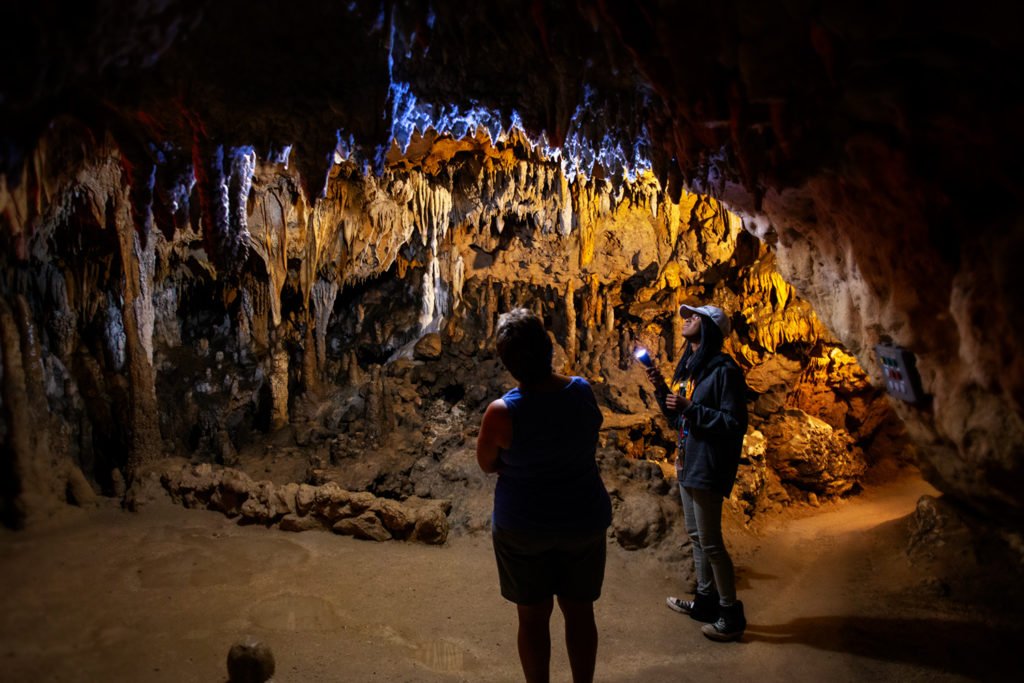 Cave Exploring — Diving
Devil's Den
Ichetucknee Springs State Park
Ginnie Springs
Blue Grotto
Wes Skiles Peacock Springs State Park
Devil's Den Cave Exploring
5390 NE 180 Ave, Williston, FL 32696 | Open: All year, except Christmas Day
Take a mini road trip two hours away to one of Florida's most popular springs, Devil's Den. The dry cave features an underground spring that was home to fossils before they were removed and put on display at The University of Florida's Museum of Natural History. The water is a wonderful 72 degrees year round and boasts crystal clear visibility for cave exploring, so pack your goggles if you want to take a closer look at just how transparent the water is! The spring is limited to those who are snorkeling or scuba diving certified. There are plenty of changing areas with showers and bathrooms, along with many picnic tables and charcoal grills, so you can plan to stay a while!
Read more about visiting Devil's Den in this post on our sister site, Orlando Date Night Guide.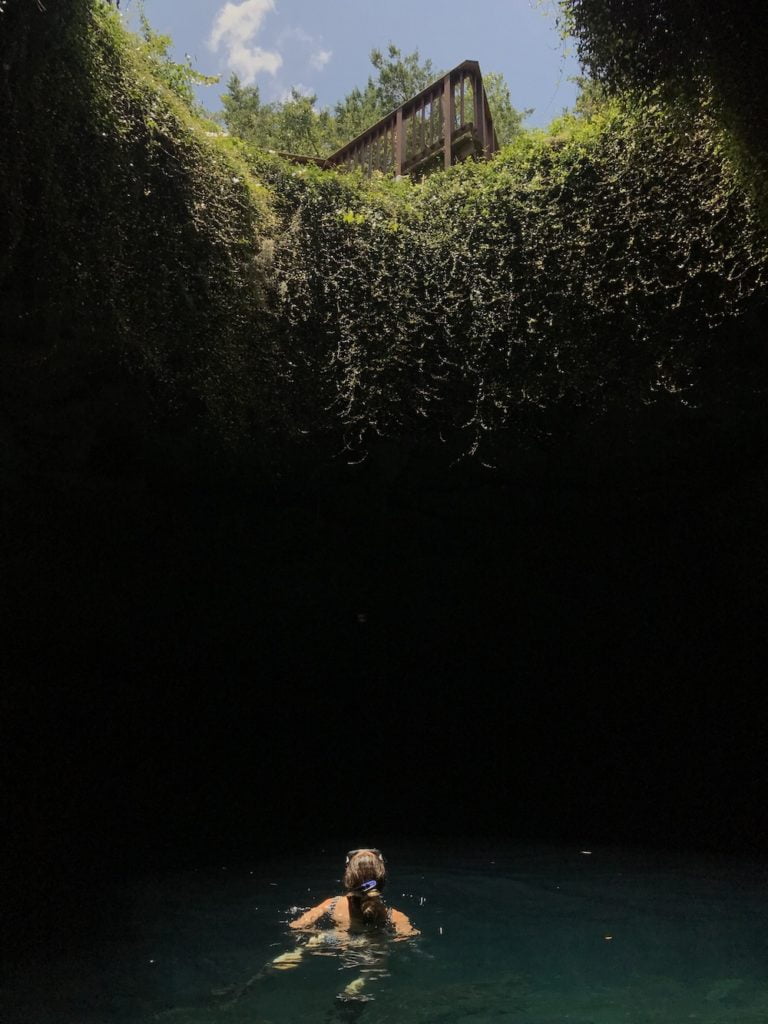 Ichetucknee Springs State Park
12087 SW U.S. Highway 27 Fort White FL 32038 | Open: All year
Only about two and a half hours from Tampa lies a park with a day's worth of fun for you and your significant other. At Ichetucknee Springs State Park there are endless possibilities for your greatest outdoor adventure desires, from bird watching to tubing and geo-seeking to scuba diving! Cavern and cave certified scuba divers can explore Blue Hole Spring, which has an underwater cave system that lies 40 feet below the surface. Admission is only $6 per vehicle. FYI: the trail to the spring is about 0.5 miles, so bring along a cart for your diving gear. Plan to arrive early, the park often hits capacity and closes to new visitors.
Ginnie Springs Cave Exploring
7300 Ginnie Springs Road, High Springs, FL 32643 | Open: All year
Drive about two and a half hours north of Tampa and dive into a park filled with activities to last all day and plenty of cave exploring! Ginnie Springs' most immersive activity is diving the Devil's Spring System (not to be confused with Devil's Den!). The water is so clear that from the bottom, you can see through the water to the trees above through a stained-glass effect created by the river. Certified divers can also explore the spacious Ginnie Ballroom. Make sure to read through the dive rules before visiting as certain certifications are required.
If scuba diving is not your thing, there is also a lazy river that you can float down at your own pace. Kayaks, canoes and stand up paddle boards are also available for rent. Make a whole weekend out of it and stay on the campgrounds.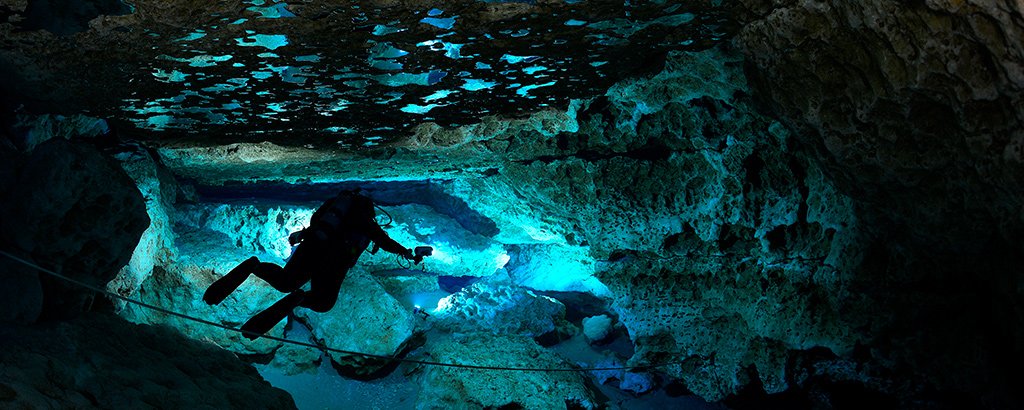 Blue Grotto
3852 NE 172 Ct, Williston, FL 32696 | Open: All year
A little less than a two-hour drive north of Tampa allows you to dive the largest clear water cavern in Williston, FL. At Blue Grotto, you can dive up to a depth of 100 feet in clear water that remains a comfortable 72 degrees all year. You must have an open water diving certification to enjoy this exhilarating dive with nature. After you're done with your dive, feel free to eat a picnic at any of their picnic pavilions.
Certified cave divers are able to explore the Blue Grotto Cave with a qualified guide. The cave is mostly untouched, so it remains relatively close to its natural state.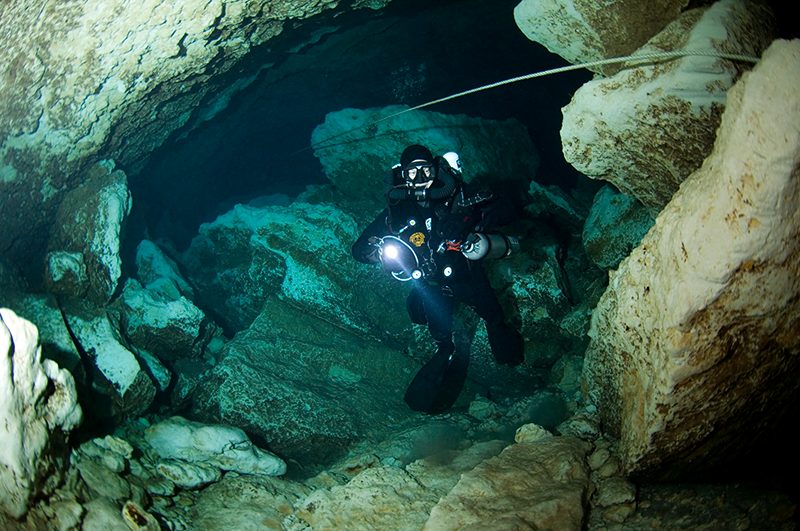 Wes Skiles Peacock Springs State Park
180th St, Live Oak, FL 32060 | Open: All year
A mere three hours away brings you right into a park with two huge springs, six large sinkholes, and much more! Wes Skiles Peacock Springs State Park boasts having one of the longest underwater cave systems in the United States, so this is well worth the drive! However, only certified scuba divers are able to explore the almost 33,000 feet of impressive underwater caverns. For those who are not diving, there are plenty of hiking trails, swimming pools, and picnicking spots. The wildlife is abundant so be on the lookout!
Feature image credit: Devil's Den