The Busch Gardens Food and Wine Festival is back in 2023 with 20 food cabins featuring all-new culinary delights from around the world and 23 not-to-miss live concerts. Foodies …this is an event for you!
We went to explore this year's festival during a sneak peek to give you a first look at what to expect and to help you map out your best day ever. So let's get to it, friends!
First things first… How to get tickets to the Busch Gardens Food and Wine Festival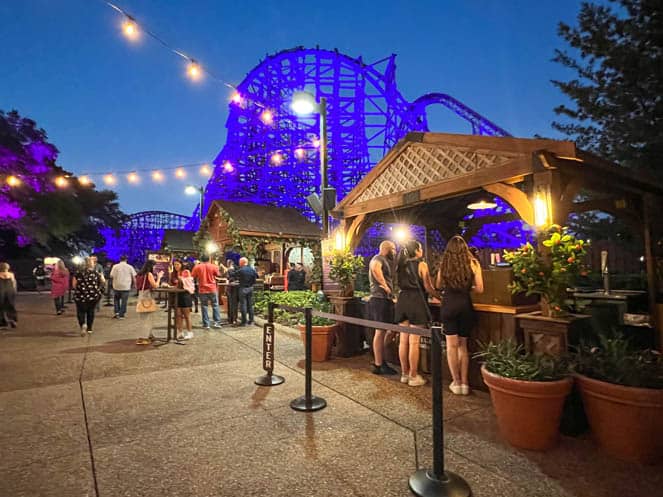 The Food and Wine Festival is included with park admission, so if you have a ticket or you're an annual pass or Fun Card holder, you are good to go!
Otherwise, single day tickets are on sale now for $99.99 each. We honestly think the Busch Gardens Fun Card is your best bet right now at the sale price of $134.99 because it will get you unlimited visits back to the park for the rest of 2023 AND you'll get a free Adventure Island Fun Card too. (Blockout dates apply)
If you want to ensure you get free parking with each of your visits and no blockout dates, then you'll want to pick up a Silver, Gold, or Platinum annual pass. The Silver Pass is $249 and also includes 2 free guest tickets. You can also break down the cost of a Silver Pass into monthly payments as low as $15. Learn more about Busch Gardens annual passes here.
Another option is to purchase a CityPass which includes admission to several local attractions–this may be great for out-of-town guests who only need a one-day visit, but still want to explore all of the other amazing things to do in the Tampa Bay Area.
When is the Busch Gardens Food and Wine Festival?
The Busch Gardens Food and Wine Festival kicks off on March 10 and will be celebrated Fridays, Saturdays and Sundays through May 21, 2023. The concerts will be primarily held on Saturday and Sunday nights.
Cinco De Mayo and Viva La Música will be held on Saturdays and Sundays May 5 through 21. This special event will feature even more authentic Latin dishes and live concerts in the festival area.
What's NEW at the Busch Gardens Food and Wine Festival in 2023?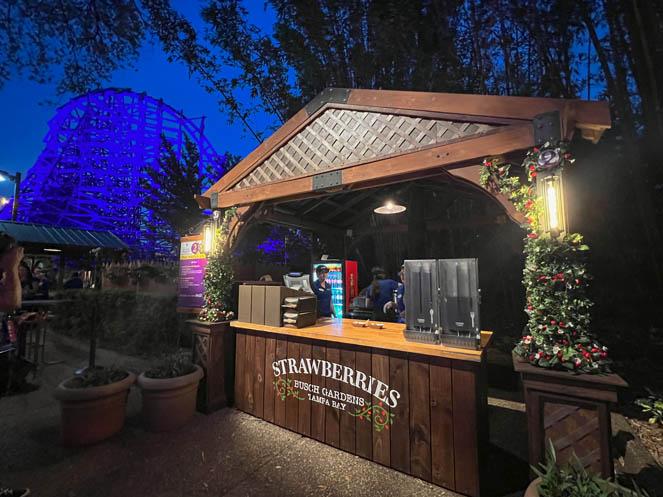 If you've been before, it's different this year with 79 all-new 'chef crafted and mixologist curated' sips and flavors, so it'll be a different culinary experience for you.
You'll find the globally inspired bites at 20 cabins in an area that covers Iron Gwazi, into the Festival Walkway Area and out toward the the Springs Taproom in the Bird Gardens to Walkabout Way. It's a good sized area to explore and spread out as you taste your way through the food cabins.
Among the all-new food and drinks you'll find this year:
Trek Through Africa Cabin – African Vegetable Curry & Naan Bread (Vegetarian)
Twisted Egg Rolls Cabin – Buffalo Chicken Egg Roll with Ranch Dipping Sauce
Moroccan Market Cabin – Berbere Spiced Chicken Batbout
Greek Isles Cabin – Lamb Lollipop with Mint Demi-Glaze (Gluten Free)
European Delight Cabin – Mushroom Ravioli with Truffle Cream Sauce (Vegetarian)
Asian Inspired Cabin – Spicy Pork Belly with Mandarin Orange Soy Glaze (Gluten Free)
Springs Taproom Bar & Lounge – Traditional Tuna Poke
Cocktails & Beer Cabin – Spicy Watermelon Margarita Craft Cocktail
Xcursions Gift Shop – Signature Coaster Cupcake 4-Pack
Latin Twist Cabin – Piña Colada Trifle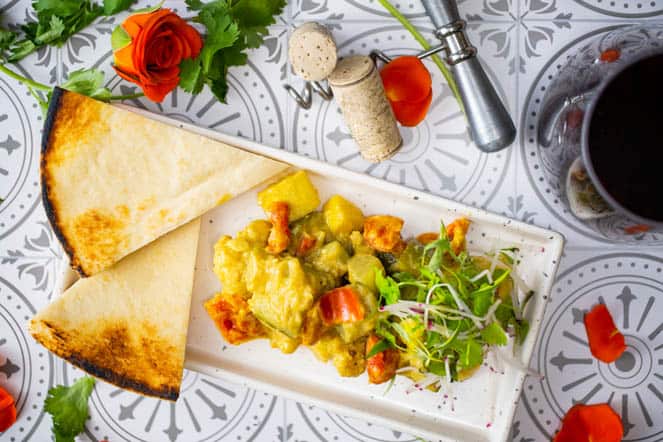 During our sneak peek visit, we got to sample a few items and our favorites by far were the African Vegetable Curry from Cabin 2-Trek Through Africa ($10.99), Mushroom Ravioli with Truffle Cream Sauce from Cabin 10-Europe's Delight ($11.99), and Buffalo Chicken Egg Roll from Cabin 6-Twisted Egg Rolls ($7.99).
We also loved the roller coaster inspired cupcakes which you'll find in the Xcursions gift shop. They're super cute and a great way to celebrate the newest additions to the park, Serengeti Flyer and Iron Gwazi! (pictured at top of article) One jumbo cupcake is $7.99 (it's big enough to share) or you can get a 4-pack for $14.99.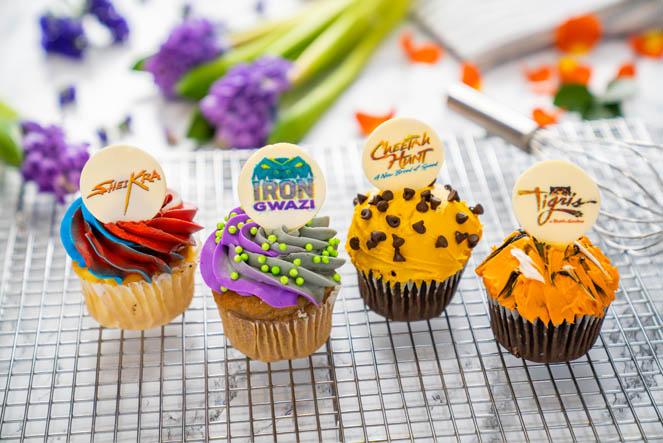 There are four ride inspired cupcake options:
Iron Gwazi Cupcake: Blueberry cake, Lemon Custard filling, Buttercream Icing
Sheikra Cupcake: Yellow cake, Mixed Berry Center, Red and Blue Streaked Buttercream
Cheetah Hunt Cupcake: Chocolate Cake, Peanut Butter Filling, Spotted Buttercream
Tigris Cupcake: Chocolate Cake, Orange Cream Center, Striped Buttercream
The Drinks at the Busch Gardens Food and Wine Festival
In addition to these ride and world-inspired flavors, you can also sip on 39 wines from regions around the world, 14 domestic and international beers, experience a bourbon tasting and more.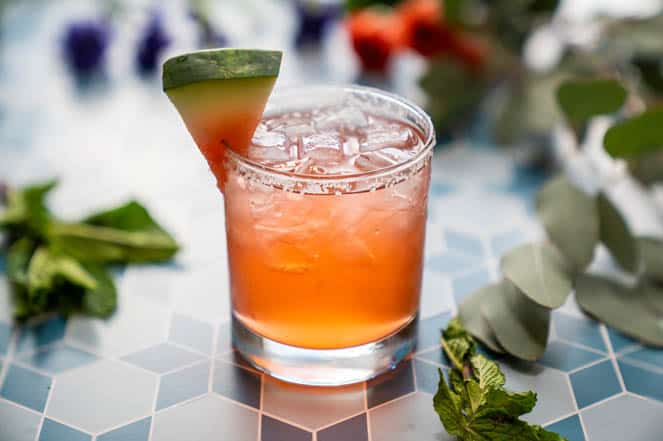 If you're looking to sample some wines from The Americas, head to Cabin 1 located in the Festival Walkway area. You'll find selections from America, Chile, and Argentina ranging from $10.99 to $15.99 per glass.
Beer lovers will want to pop into the Springs Taproom or the Cocktails & Beer Cabin for a cold brew.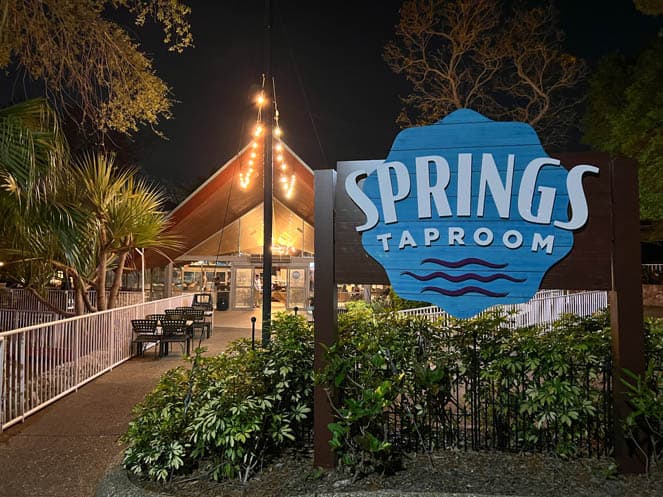 How to Save at the Busch Gardens Food and Wine Festival
If you are planning to go with the family or know you're going to be purchasing more than few items, you will definitely want to consider purchasing a Food and Wine Festival Sampler. There are two Sampler passes available:
Food and Wine Festival 10-Item Sampler for $70: This is a great value that will save you up to 40% on your food and drink purchases at the festival.
Food and Wine Festival 15-Item Sampler for $85: This is the best deal for food and drinks, saving you up to 50% at the festival. And yes, you can share with someone else, so this is a great option for families and those looking to attend the festival more than a few times.
The Concerts at the Busch Gardens Food and Wine Festival
There are 23 headlining concerts over an 11 weekend spread with some big names! The concerts are included with admission, but you can upgrade for better seats. Here's are the concerts on schedule for 2023:
Kansas – March 11
+LIVE+ – April 8
Maddie & Tae – March 12
The Fab Four – April 9
SWV – March 18
38 Special – April 15
Dustin Lynch – March 19
Mitchell Tenpenny – April 16
Rodney Atkins – March 25
Air Supply – April 22
Flo Rida – March 26
Gabby Barrett – April 23
Jeremy Camp – April 1
Hoobastank – April 29
MacKenzie Porter – April 2
WALK THE MOON – April 30
How to upgrade your concert experience
If you want VIP access to any of the concerts, there is a way to take advantage of this!  VIP Reserved Seating includes the best seats in the house along with one free beverage and a private bar. The VIP prices start at $49.99 each. Pass members get a 10% discount, so it does pay to be a pass holder.
More ways to upgrade your visit to the Busch Garden Food and Wine Festival
In addition to the VIP Reserved Seating for concerts, there is this amazing upgrade:
Food and Wine Festival Guided Tour for $139.99 per person. This experience gets you your very own VIP tour guide who will escort you around the event so you can skip the lines as you sample sample all of the culinary offerings and ride the coasters. This option also includes VIP concert seating.
Cinco de Mayo and Viva la Música
You'll want to come back in May to not only celebrate Cinco De Mayo, but Viva La Música which will feature even more iconic Latin dishes and live concerts every Saturday and Sunday from May 5 through 21. It is also included with park admission.
The festival area will undergo a complete transformation to showcase Latin flavors and sounds from Mexico, South America and the Caribbean.
Here's a peek at some of the Viva la Musica food you can expect:

The Viva La Música concert lineup features these award-winning Latin artists:
The Como La Flor Band – May 5
Celia Vive – A Tribute to Celia Cruz – May 6
El Gran Combo – May 7
Toño Rosario – May 13
Grupo Niche – May 14
Elvis Crespo – May 20
Luisito Ayala y la Puerto Rican Power – May 21
*This Busch Gardens Food & Wine Festival article written in partnership with our media partners at Tampa Bay Parenting Magazine and TampaBayParenting.com.