Attention all St. Pete friends: Baba on Central is officially open for business! Baba on Central opened quietly on July 24th and has been 'wowing' customers every single day since!
Baba on Central is the best spot for all things Greek and Lebanese. The spot is located in St. Pete at 2701 Central Avenue and is open for dinner from 11 to 11 on Fridays and Saturdays and 11 a.m. to 9 p.m. on Sundays, Wednesdays, and Thursdays. Before the dining room opened, the bakery proudly opened serving up delicious quick bites, coffee, and more. While you're there, enjoy the authentic 'evil eye' décor as well as brand new patio seating,  shady umbrellas, and the perfect hanging lights to set the ambiance. It's important to note that the bakery's hours differ from the restaurant, operating every day from 9 a.m. to 4 p.m.
The Bakery and Café Menu at Baba on Central is perfectly simple and will delight those in a hurry, whether it be to or from work, this spot is perfect for a taste of Baba without the wait time. The menu is organized by food with options such as Pita Sandwiches, Salads, Tripletes, Fries, Yogurt, and Bakery.  Guests can order delicious Pitas including the Chicken Pita Sandwich which features grilled and marinated chicken with lemon, oregano, rosemary, and tzatziki! They also offer other pita sandwich options such as the Lamb, Falafel, Pork, and Kafta!
Under the Tripletes menu, guests can order Souvlaki for only $6! Souvlaki is a traditional Greek dish featuring a grilled kebab with fried pita, hard  Greek cheese, and lemon. Guests can choose from chicken thighs, pork shoulder, kafta, or eggplant! Perhaps the most exciting part of this menu is the bottom section: Bakery. Here you can order delicious savory or sweet items such as Spanakopita (savory) or the ever delicious Baklava (sweet)!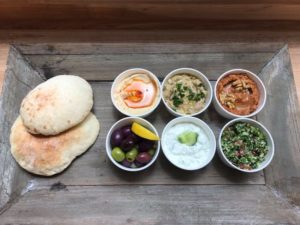 The Restaurant Menu is a larger version of the Bakery and Café Menu with delicious items such as Salads, Small Plates, Large Plates, Cocktails, Beer on Tap, Wines, and more! On this menu, you'll notice delicious small plate options such as Falafel with apple fennel, and tahini OR Local Clams with lemon, dill, white wine, chickpeas, bottarga, and pita bread crumbs. Next, check out the Large Plates Menu with delicious meal options such as the Hanger Steak with mushrooms, sumac onions, and fingerling potatoes! Also, check out their take on Orzo with mushroom, fennel, Greek yogurt, and mizithra—yum!
Don't forget to check out their drinks menu with everything you can think of! Check out their cocktails such as the Anastasia with Figenza Fig Vodka, Ouzo, Orange Liqueur, Lime, and Soda. If you want something a little less potent, check out their Beer on Tap menu, Sparkling Wine menu, and more! Not to mention, their prices are totally reasonable at Baba on Central!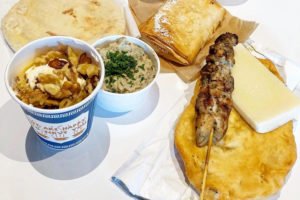 Whether you're stopping in for a coffee and baklava or you're looking for a delicious plate of Lamb Confit and a glass of Prosecco, Baba on Central has something for you! Central Avenue is a great spot to spend your next date night so why not include this new hot spot in your plans? Enjoy!
Featured Image Credit: The Business Journal