Prepare for a dinner or drink date experience like no other at Anise Global Gastrobar.  Nestled in the heart of downtown Tampa at the foot of Element Tampa's apartment building, across from Curtis Hixon Park, Glazer Children's Museum, and the Tampa Museum of Art, Anise Global Gastrobar features a swanky, culturally infused atmosphere with an elegant color scheme and the perfect ambiance for any night of the week! Enjoy internationally inspired entrees with a twist as well as craft cocktails, and handpicked wines.  Part bar, part dinner pub, part speakeasy, Anise Global Gastrobar has a great decor and intimate feel, while their hidden event space is amazingly elegant.
The Menu
Pop into Anise Global Gastrobar for brunch, lunch, or dinner and try one (or two) of their deliciously unique entrees! Try a comforting bowl of Pork Belly Ramen – made with pork broth, crispy pork belly, fish cake, roasted mushrooms, soft boiled egg, scallions and kimchi, or try their Seafood Ramen, made from lobster broth, grilled shrimp, fish cake, krab stick, mushrooms, soft boiled egg, and nori.  Salad options include a unique dish of roasted beets, or a cool salad of seasonal berries.  Sandwich options at lunch including interesting takes on a lobster BLT with fried green tomatoes and candied bacon, a steak sandwich made with beef tenderloin, or a Thai burger with papaya slaw, jalapenos, ginger aioli, and cilantro. Dinner features plates of spicy beef or tuna tartare, and chicken and waffles.
Small plates of Stinky Buns, famously known from the Stinky Bunz food truck in amazing flavors, are a highlight of the Small Plates portion of Anise Global Gastrobar's menu.  Variations include seared pork belly, fried zucchini, panko fried shrimp, duck confit, red curry crispy chicken, and chinese bbq pork.
Additional menu offerings include Jap Chae, a dish containing gluten-free noodles, sautéed veg and various protein choices, or a decadent offering of truffled tater tots that were never served in any school cafeteria and lobster mac cheese.  Dessert choices at Anise Global Gastrobar include sweet treats beignets to s'mores to a flourless chocolate torte with blueberry balsamic sauce.  a type of gluten-free noodle dish, Jap Chaffe, or a crisp Roasted Beet Salad for lunch. OR start off small with Truffled Tater Tots, Crispy Wings, Crab Rangoon Dip, Baked Goat Cheese, and more!
Pre-Show Menu
Location, location, location.  Anise Global Gastrobar is in a great location, particularly as a pre-Straz dinner spot.  Barely a 5 minute walk from the Straz center, Anise Global Gastrobar can turn a show at the Straz Center from a rushed, nerve-racking attempt at finding parking before the lights dim to a relaxed, calm and enjoyable evening.  Instead of eating elsewhere and then fighting traffic and the limited parking right before showtime at the Straz Center, smart daters drive and park at Straz earlier in the evening, walk to Anise Global Gastrobar for dinner, drinks and dessert, and then calmly walk back to Straz in time for the show!  Anise Global Gastrobar even has a special Pre-Show Menu with quick meals and options to get you in and out in a timely manner for your favorite show across the street at the Straz. Tell your waiter or waitress that you're heading to a show, select a delicious meal off of the Pre-Show meal, AND make it early to the Straz to get your seats. Talk about convenient!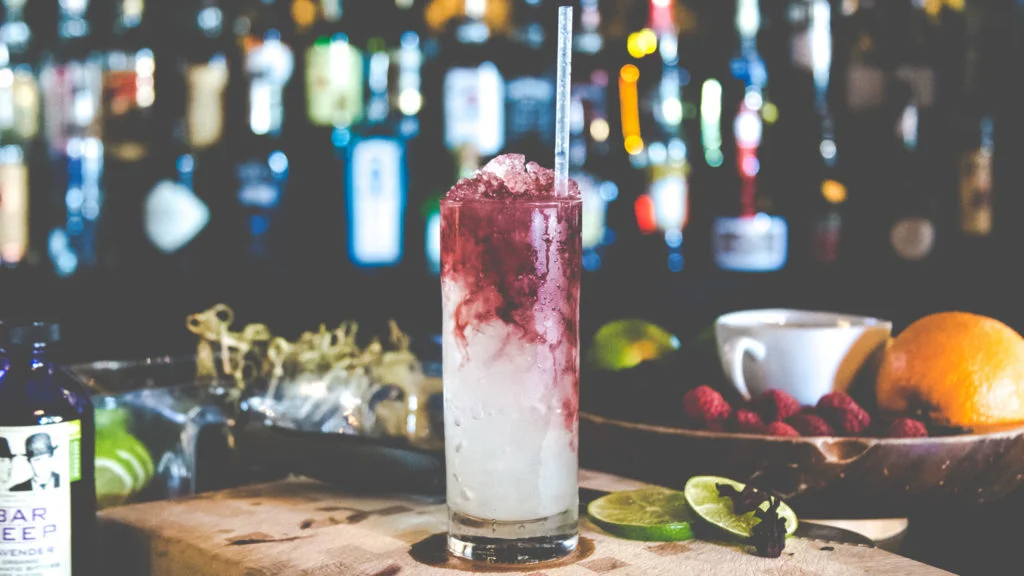 Cocktails
Featuring a hip menu of uniquely named cocktails, such as Leblon James, The Girl Next Door, Old Fashioned Old Fashioned, and I Don't Want No Shrub, Anise Global Gastrobar is a specialty cocktail lover's dream.  Know what a Leblon James is? Anise Global Gastrobar's menu describes features it with leblon cachaca, old port rum, tamarind, guava, almond orgeat, and lime. The cocktail menu at Anise Global Gastrobar also includes long-time favorites like Moscow mules, Manhattans, brambles, and numerous other great specialities.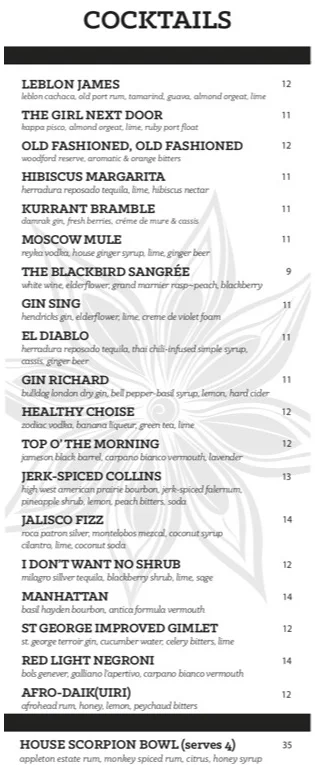 The wine list at Anise Global Gastrobar is unique, too – instead of a typically daunting wine list containing confusing, meaningless names and regions, Anise Global Gastrobar's wine buyer took the time to describe the smells and tastes of their various wines.  Like Sauv Blanc? One is described as having "aromatic notes of lemon and grapefruit" while another has intense fruit aromatics with old world minerality.  Do you want your Pinot Noir to be flowery with red fruit tastes or dark and savory? With most wines offered by the glass or bottle, Anise Global Gastrobar offers regular wine drinkers a comfortable list to experiment with and learn from, at reasonable prices.
Anise Global Gastrobar's Regular Events
Head over to Anise Global Gastrobar every Monday for Monday Socials featuring a series of handcrafted cocktails developed in house every single week! These cocktails are made to compliment a specific spirit with encouraged curiosity from the staff to the patrons! Socialize with the staff behind the bar and experience a new spirit every Monday at 7:00 p.m.
Ladies, grab the girls and stop by Anise for a night all about you! Stay awhile for drink specials just for the ladies all night long every single Wednesday.
Anise Global Gastrobar is the perfect place to try something new! Meals at Anise are unlike any other! Each dish has familiar flavors and notes, with a totally unique flare! Be bold and step into a new culinary universe every time you walk through the door.
Feature Anise Global Gastrobar Image Credit: aniseglobal.com