Calling all animal lovers. Everyday animals are left on the side of the road to die, but the lucky ones are brought to a nearby adoption center. As an area that loves animals and is almost entirely pet-friendly, Tampa Bay has a plethora of these shelters filled with cats/dogs who need forever homes.
Even if you and your significant other aren't looking to adopt, check out the following rescue shelters to give a little love to these lonely felines and canines. And if you are looking to add a new member to your household, look no further than the following shelters.
This may seem like a weird date idea, but if there is anything better than snuggling with your loved one, it is snuggling with a puppy. Am I right, or am I right?
SPCA Tampa Bay
Address: 9099 130th Avenue North, Largo, FL 33773
SPCA is a no-kill rescue shelter located in Largo, only a little ways down from downtown St. Pete. Although they have other animals, dogs and cats are SPCA's main focus. They have cat, kitten, dog, and puppy rooms – all full of cuddly creatures waiting to be adopted. Couples can go into the clean, cozy "pods" and hang out with the animals of their choice. You may go just to have some animal interaction, but chances are you may end up wanting to adopt.
As a rescue shelter, all animals are up to date on vaccines, spayed/neutered, and are ready for adoption the day of. In addition, rescue fees go for only $35, which is a donation that goes directly into getting the rescued animals back to good health.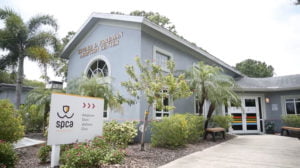 Pet Pal Animal Shelter
Address: 405 22nd St S, St. Petersburg, FL 33712
Located in sunny St. Pete, Pet Pal Animal Shelter is saving the lives of cats/dogs every day of the year. While some of their animals are obtained through owner surrender, most are transferred from kill shelters in other parts of Florida. The animals at Pet Pal are longing for a forever home, however their living conditions at Pet Pal are not too shabby.
Like SPCA, all animals on the floor are ready for adoption the day of. Go cuddle an abandoned kitten at Pet Pal for your next day date and who knows, you may end up falling in love and taking her home.
For more information regarding current adoptable animals, check out Pet Pal Animal Shelter. Buster, Charlotte, Cookie, Max, and many more are waiting for you to stop by.
The Humane Society of Tampa Bay
Address: 3607 N Armenia Ave, Tampa, FL 33607
As one of the more well-known shelters in the area, The Humane Society of Tampa Bay rescues hundreds of animals each month. Whether picking them up off the streets or saving them from inadequate homes, this shelter takes excellent care of these deserving cats/dogs. These animals need love, making a visit to The Humane Society of Tampa Bay the perfect idea for your next date. You may even end up leaving with a Labrador mix you can't image your life without. Kennedy, Nick, and Nero are anxiously awaiting your arrival.
There is a small fee for each adoption, however it goes directly into helping more abandoned animals find forever homes. For more information regarding these fees, adoptable dogs/cats, and more, visit The Humane Society of Tampa Bay.
Featured Image Photo Credit: Cesar's Way