Savannah, Georgia is a great spot to spend a weekend away at any time of year! This hot spot destination is a quick 5.5-hour drive from Tampa and is only about an hour drive from both Charleston, SC and Hilton Head Island. It's also a quick 45 minutes from the Jacksonville area. The next time you're looking for a place to visit that isn't too far away – consider Savannah!
Where to Stay
When you visit Savannah, some of the draw is the old-historic feeling in the downtown areas with rumored hauntings and loads of interesting history. One of those historic spots that you can rent a room at is the Marshall House. What was originally a Civil War hospital is now a gorgeous historic hotel – Savannah's #1 Historic Hotel, that is. The rooms are beautiful and the location is truly unmatched with walking distance to every hot restaurant or tourist spot.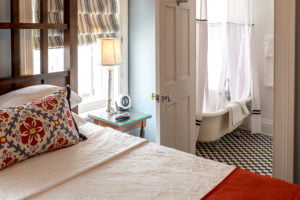 Another historic house to book for the night is Kehoe House. This beautifully restored 1892 mansion is a gorgeous B&B rated Savannah's #1 Hotel and USA's #3 Romantic Hotel! It was also voted TripAdvisor Travelers Choice in 2019 and Best of Savannah in 2019! When you drive by this historic home you truly can't miss it and it's Queen Anne Revival stylings. There are only 13 guest rooms so make sure you book ahead!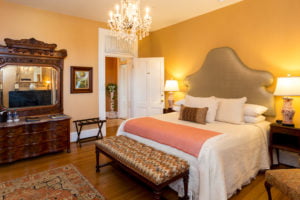 Another beautiful home built in 1847, The Eliza Thompson House is a gorgeous boutique hotel located in a residential neighborhood in historic Savannah. This lodging option is in a great location, central to both Forsyth Park and the Starland District – Basically, you can walk everywhere from this gorgeous home.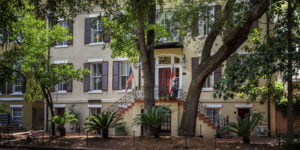 Looking for that historic Savannah charm but want to bring your pet along with you? Look no further than the East Bay Inn! This pet-friendly boutique hotel was built in 1852 in the middle of downtown Savannah. It's just steps from River Street and the Historic Districts. This hotel is truly beautifully done and does not skimp on history!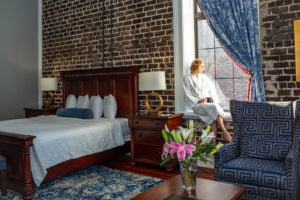 This historic inn was built by cotton merchants in the late 1850s and has received multiple famous visitors including Robert E. Lee – Talk about southern history! The historic mansions became an inn in 1987 and were recently remodeled in 2007. It is a premier downtown accommodation and was even featured in Southern Living multiple times! Curious about the name? Each of the 16 guest rooms is named after a U.S. President who visited the city.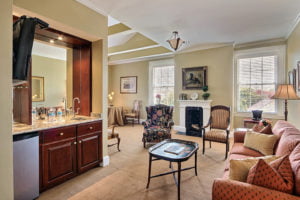 Where to Eat
According to Mrs. Wilkes's website, "A line gathers each morning at 107 West Jones Street. At 11 o'clock, the doors of 107 open and the lunch crowd finds seats at one of the large tables-for-ten shared by strangers." This hot spot is for the lovers of fried chicken, cornbread, okra, gumbo, and all of the other Southern fixin's you can think of! Make sure you get there early – they don't take reservations!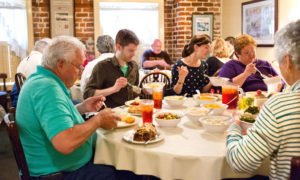 Perhaps one of the most popular restaurants in Savannah is The Olde Pink House. It sits adjacent to Planters Inn and features Lowcountry cuisine in a gorgeous, sophisticated environment. It's set in an old 18th Century mansion (Savannah's only 18th-century mansion) and is truly a must-do if you're in the area!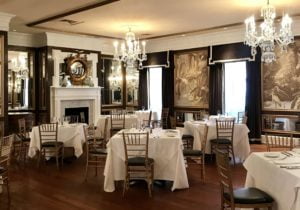 Cotton & Rye is another unique Savannah dining experience, located in an old 1950's bank! This is a great spot to enjoy modern fusion with old classics such as "sausage and pate making, breads from scratch", and more!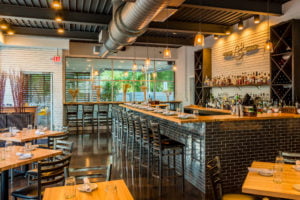 Located in Savannah's Historic District, Circa 1875 is a French Bistro that's serving up history, as well as delicious food. Something unique about this spot is their Gastro Pub which is original to its opening in 1875! For tons of history and delicious French food – check out Circa 1875!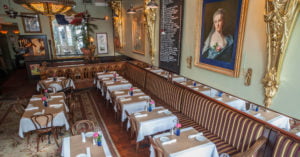 What to Do
Forsyth Park
Perhaps one of the most iconic spots in all of Savannah is Forsyth Park. Here you can find a large city park that spans 30 acres in the historic district of Savannah. This spot has something going on all the time such as farmer's markets, basketball games, tennis games, soccer, frisbee, rugby, concerts, benefits, and more!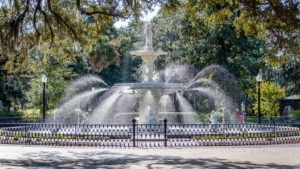 Savannah Historic District
Obviously when you visit Savannah you must visit the Historic District. This is an awesome spot to experience a bit of history, shop, eat, and stroll.
River Street
Another awesome stop on the river near the Historic District, East River Street is where you can find great restaurants, bars, sweet shops, and shopping.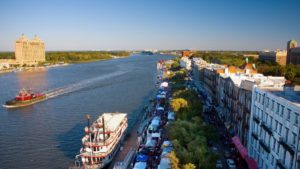 Chippewa Square
This spot in Savannah is full of rich history, beautiful homes, a museum, and a theater to enjoy. It's a great place to roam around on those beautiful Savannah afternoons.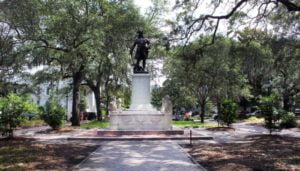 Ghost Tour
You can't visit a haunted city and not do a ghost tour! Don't be afraid – the Savannah ghost tours are fun and interesting especially Ghosts & Gravestones Savannah. On this tour, you'll learn about Savannah's history after its founding in 1733 after being built on Native American Burial Grounds – creepy right?
Savannah is full of awesome people, places, shops, and food and is the perfect spot for a weekend getaway! Before visiting make sure you know what you want to do – there truly is so much going on! Cheers.
Featured  Image Credit: Visit Savannah
Want to find more getaways? Check out our Getaways page for all of our recommended spots!