Celebrate with Cigar City Brewing for the 10th Annual Hunahpu's Day Beer Festival! One of the "fastest-growing craft breweries in the US", Cigar City has announced a ticket release for Hunahpu's Day 2019! This is the premier craft beer festival in the Southeastern United States and is the annual release of the Hunahpu's Imperial Stout! The event will take place on March 9th at Raymond James Stadium with tickets already available. Tickets will include unlimited samples of beer from 170 of the world's most acclaimed breweries as well as bottles of the famous Hunahpu Imperial Stout!
About Hunahpu's Imperial Stout
The naming of the beer originates from Hunahpu, one of the heroic twins originating in Mayan mythology. What makes this event so unique is the limited availability of this Stout! The stout is only available during Hunahpu Day with tickets to the event! The event is coveted among beer enthusiasts and brings devoted fans from across the country.
The famous stout is described as "a monolithic dark beer brewed with cinnamon, vanilla, cacao nibs and three types of chile peppers". "Hunahpu's begins life as an 11.2% Imperial Stout boasting strong notes of espresso and dark chocolate. After fermentation, cacao nibs, vanilla beans, and cinnamon are blended with ancho, pasilla and guajillo chile peppers and the beer is recirculated over these adjunct ingredients. The resulting beer finds the perfect balance between sweet milk chocolate flavors, spice-derived complexity and a Scoville heat that's slow-building but never overwhelming" (Cigar City Brewing). Yum!
Hunahpu's Imperial Stout has become one of the all-time highest rated beers in the world! Due to the magnitude of this stout, the founders of Cigar City Brewing dubbed the second Saturday of March as "Hunahpu's Day" in honor of the release. Last year's Hunhpu's Day brought out over 5,000 attendees with beers from Florida, California, Mexico, Denmark, and Russia! This year, Cigar City is offering a variety of ticketing options so that all who attend may access Hunahpu's Imperial Stout! The entry-level ticket will include bottles of the stout, entrance to the festival, unlimited pours of over 400 beers, meal tickets, a souvenir tasting glass, and more!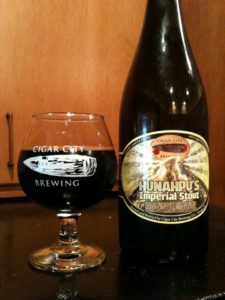 10th Anniversary Specials
CCB is also introducing two brand new versions of the stout! The additions will be exclusive to the higher level ticket holders. The Xbalanque and the Xquic will debut at the 10th Anniversary. The Xbalannque leaves behind vanilla notes with a woodiness to the beer, whereas the Xquic makes use of sugary maple to balance the spicy roasted flavor. Both will be bringing new flavors to this beloved beer!
For more information regarding Hunahpu's Day 2019, visit Cigar City Brewing's website  cigarcitybrewing.com or hunahpusday.com for more information!
Featured Image Credit: hunahpusday.com