Check out these Tampa Bay Arcades
Arcades are for kids, right? Wrong! If you loved going to arcades when you were younger, you should consider taking your date out to an arcade for a game night date night! Arcades aren't just for kids at these Tampa Bay arcades. Here are some great arcades with restaurants, bars and more ready to make your date a fun, playful one to remember.
If you've never been to Dave and Buster's, you're missing out. At this arcade, you can play classic games like Pac-Man and Skee-Ball or newer games like Candy Crush or Piano Keys. There are even themed games with Ghostbusters, Star Trek, Star Wars and more. If you like to play games, but also want a meal with your date, never fear. Dave and Buster's has Eat & Play combos that are perfect for you! There is an extensive menu available for you to choose from when you're feeling hungry.
And that's not all! At Dave and Buster's, you can also enjoy a variety of drinks, found on their drink menu. At this arcade, you can eat, play, drink and have a special night full of all kinds of fun.
For those looking for some fun with a twist, GameTime is the place to go. Here, you and your date can enjoy a variety of arcade games, from pinball to Angry Birds and more. There is also mini bowling and billiards available for you to play. And the fun isn't over yet! At GameTime, your date can also have a meal from the extensive menu, as well as a drink. GameTime offers numerous cocktails, martinis and margaritas as well as beer and wine.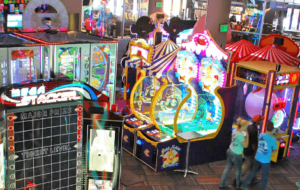 An arcade and a tavern? That sounds like a perfect idea for your next date. At Lowry Parcade, your date can enjoy classic arcade games along with craft beers, wine, board games, video games, and live events. There's different events throughout the week, from movie nights to art shows and more, so make sure to check the schedule and plan for what you want.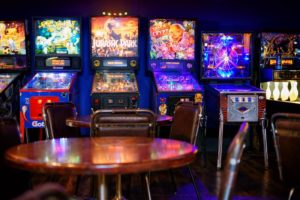 Feature image: Dave and Buster's