From April 13-22, Clearwater's infamous Pier 60 will be hosting the annual Sugar Sand Festival. This ten-day beach-wide celebration highlights not only Clearwater's beautiful sugar sands and sunsets, but also brings the community of Tampa Bay together for ten days of fun.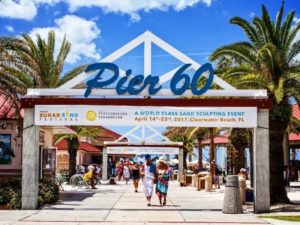 visitstpeteclearwater.com
The Sugar Sand Festival's name stems from the exquisite and elaborate sand sculptures that will be present within the Sugar Sand Walk Exhibit, which is located inside a huge and spectacular 21,000 square ft. tent.
Eleven world-class sculptors will be there creating these sandcastles, all under this year's theme, Sea America: A Celebration of America's Treasures. You and your loved one can admire these beautiful, handcrafted sculptures.
No molds are used, adding another special element to this annual festival. With the themes changing every year, couples are presented with a once in a lifetime opportunity to see these extraordinary sculptures. The exhibit is open from 10 p.m. to 10 a.m. each day.
In addition to the sandcastle exhibit, the Sugar Sand Festival offers free sand sculpting workshops, as well as "speed sand demonstrations." These activities give couples a glimpse into the world of sandcastle art by allowing them to try it themselves. There is also The Master Sand Sculpting Competition, which happens within the sand exhibit. This begins on Saturday, April 14. During the competition, seven master sandcastle builders will sculpt right in front of couples' eyes.
Couples can vote for their favorite sculptor/sandcastle by making a donation in their name. At the conclusion of the contest, all proceeds will go to Sandy Lane Elementary School in Clearwater.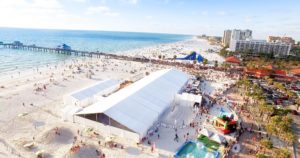 Aside from the sandcastling, some of the other activities offered at The Fest include beach concerts, fireworks, movies on the beach, cornhole tournaments, water slides, bungee jumps, and The Giant Sandbox. More information regarding the concert lineup and the variety of movies that will be playing, as well as their times, can be found on The Fest's website.
There will also be a variety of street performers and local artisans/crafters for couples to enjoy. In addition, a wide selection of drinks will be available for couples over the age of 21 at The Sand Bar. Sip on a glass of wine, craft beer, or mixed drink as you and your significant other admire the spectacular sandcastles. Couples can also enjoy a delicious meal from one of the many beach restaurants located on the pier.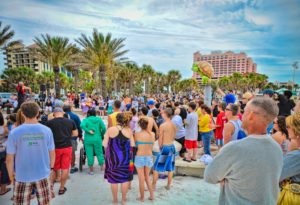 In terms of tickets, the annual Fest is extremely affordable for all. Ticket prices are as follows: $10 for adults, $6 for students under the age of 17, and $8 for those 55+, military personnel, police officers, firefighters, and teachers. In order to receive any discount, proper identification is required. Regardless, these prices are low for how much The Sugar Sand Festival has to offer. Tickets can be bought online on The Fest's website or onsite at the exhibit tent.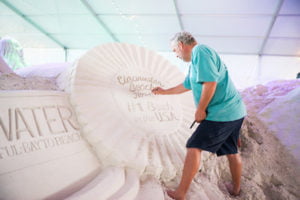 If you are driving to The Fest, there is plenty of parking nearby. Once again, The Fest's website will provide you with more information on where to park, as well as a list of items that are and are not permitted within the park.
This is an incredible date opportunity for couples of all ages. Grab your significant other and head down to this year's Sugar Sand Festival for a day date you will never forget!
Address: 1 Causeway Blvd Clearwater Beach, FL 33767
Feature Image Photo Credit: Family Friendly Tampa Bay