Just two days after Valentine's Day, Kelsea Ballerini will be making an appearance in Tampa at Ruth Eckerd Hall for her Unapologetically Tour and we want you to be there!
The Next Woman of Country
Kelsea Ballerini is a rising country star that has created history by being the first woman to have three consecutive country songs at the No. 1 spot on the charts. She has not only written all of her own songs, but many for other singers and performers as well as being crowned CMT's "Next Woman of Country." I could go on and on spitting facts about all the amazing things the talented Kelsea Ballerini has done, but instead, I want to give away tickets so you can see them all for yourself.
Giveaway
To win two tickets to see Kelsea Ballerini at Ruth Eckerd Hall on February 16 at 7:30pm you must simply do three things:
Follow Kelsea's Facebook Page
Tag a friend in the comments of our Ticket Giveaway on our Facebook page, and then BAM! you're entered.
We will be choosing a winner at 12 p.m. on Valentine's day.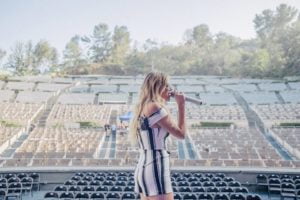 You do not want to miss out on this chance to win! And even if you don't win, grab your tickets for the show to see the "Next Woman of Country" sing her biggest hits "Legends" and "Love Me Like You Mean It" on her Unapologetically Tour.