Mark your calendars, folks because October 11th is National Sausage Pizza Day! Yes, there's a whole entire day dedicated to sausage pizza and we couldn't be more excited. Whether it's sausage pizza you're after or just a plain slice of pep or cheese, we have an awesome list of local pizzerias in Tampa Bay that will hit the spot! All of these spots are local to the area, aren't chains, and received glowing Google reviews. Check them out!
Eddie and Sam's N.Y. Pizza is a local staple on the Tampa pizza scene. At Eddie and Sam's their pizza strives to maintain all of the yummy, cheesy qualities that you might find in a slice at your favorite shop in NYC. How do they do this, you might ask? Well, Eddie and Sam's imports NYC water to Tampa to use in the crust-making process! How cool is that? A lot of the deliciousness of NYC pizzas comes from the crust. This is due to minerals specific to the tap water found in the City. Basically, if you're looking for authentic NYC pizza, head over to Eddie and Sam's and buy a slice…or two!
The next time you're craving pizza, head over to Ybor City and head straight to Due Amici. This hot spot for pizza is family-run, and entirely local since the business began over a quarter of a century ago.  Due Amici wants to bring Italian Pizza to America with their very own hand-crafted sauces and homemade dough. Due Amici guarantees that every single dish will incorporate some homage to Italy whether it be the sauce, the tomatoes, the cheese, or the Italian spirit.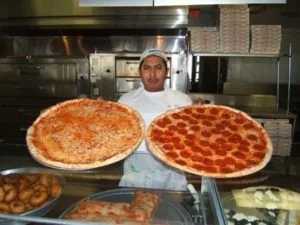 Check out Fabrica Pizza for a Neapolitan spin on this classic meal. Something unique about Fabrica is their pizza dough—they only use 00 Flour! 00 Flour is an Italian milled flour that gives the dough a delicious pull and chewiness that a lot of other pizzas lack. Fabrica is a great spot to try if you're in Tampa or St. Pete with their two convenient locations! Guests at Fabrica can build their own 12" Neapolitan pizza or they can order one of Fabrica's Favorites such as the Carni which includes Italian Sausage! The perfect pie for your October 11th celebration.
A great place to spend National Sausage Pizza Day is Palm Riverside Pizza for a casual dining experience full of flavor! Palm Riverside Pizza puts the customer first along with their great pizzas! They're open every single day of the week so even if you can't make it on October 11th, you can definitely come back another time to delight in their deliciousness.
Venture over to Lee's Grocery for a bite out of history. The original grocery was owned and operated by Jennifer Hatchcock in 1884—yeah, you read that right. The original purpose of the grocery was to provide local goods and items for the migrant workers of the community. Now, 132 years later, Lee's has been totally converted into a Pizza and Craft Beer Restaurant and Bar! Lee's offers 6 different specialty pizzas including the "Deadman's Party" which includes, yep, you guessed it, sausage! It also holds pepperoni, meatball, ham, and bacon atop its crust!
Hawkeyes New York Pizza and Pasta is located on Fletcher Ave and is the perfect spot to create your own pizza or to try a specialty pie! The pizzeria offers appetizers, wings, pizza, calzones, Stromboli's, subs, burgers and more! Try out their infamous 28" Giant Pizza or a specialty pizza including Hawkeye's Supreme, Mediterranean Chicken, or Herb Pizza! You truly can't go wrong with any offer.
TamPiz is a fairly newer pizza joint to hit the scene since its founding in 2015. What makes TamPiz unique is its French influence! The spot was founded by 2 French brothers, Tommy and Kevin Gautheron from Lyon, France. The brothers have grown up surrounded by creativity and talent, especially when it comes to cooking! Their pizzas are delicious and range in toppings and never skimping on flavor. Check out the Paris Pizza with mushrooms, ham, black olives, and herbs.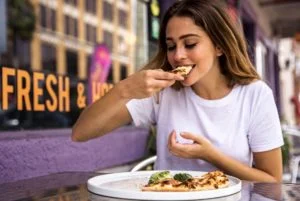 Cappy's Pizza is a truly delicious pizza option that truly won't leave you disappointed. Don't believe us? Cappy's has been voted Best of the Bay 11 times AND City's Best. With pizza this good, it makes sense that there's so much publicity surrounding the spot. Cappy's locations range from Tampa Palms, Riverview, St. Pete, South Tampa, and Seminole Heights. So, wherever you are in the bay area, there's a Cappy's somewhat close by and will be worth the drive, wait, and everything else in-between. Consider ordering "The Cappy" which includes sausage, ham, pepperoni, green pepper, onion, and mushroom!
Tampa Pizza Company is a local favorite, located right in the heart of downtown Tampa with another location in Westchase! At Tampa Pizza Company, enjoy traditional Italian pizza with delicious, fresh ingredients, spices, and herbs. Every single pizza is made to order, fresh in house. Tampa Pizza Company takes pride in healthy pizza options and really strive to keep everything as natural as possible. A few of the house favorites include the Fresh Market, Sausage & Peppers (perfect for Oct 11th), Fun in the Sun, and so many more.
Hampton Station is another favorite spot to dine when it comes to a great atmosphere and great pizza. HS takes pride in its "original, NY style pizza and wings" that is tough to find in Florida. Their pizza options are classic and delicious with options such as the traditional Cheese Pizza which is 16", NY Style, with their own marinara sauce and grande mozzarella. For National Sausage Pizza Day, be sure to check out the Meat Pizza, with pepperoni, sausage, ham, meatballs, and bacon—yum!
However you choose to celebrate National Sausage Pizza Day, hopefully, you'll grab a slice with a loved one or friend, sit back, relax and enjoy!