Any time is a good time to venture out and about around the Bay area for a delicious burger! The Tampa area is a foodie haven and whatever your diet may be, burgers are a fan favorite. Burgers are simple, delicious, and well loved by many.
America's favorite sandwich has come a long way since it was popularized by fast food spots. Tons of designer burger joints have popped up in order to improve on a simple concept. Fresh ingredients, secret recipes, and tasty twists make all these spots different and delicious in their own ways. No matter what your preference, everyone has a favorite spot they go to get their favorite version of a good ole fashioned hamburger. Check out these delicious burger joints across Tampa and maybe find your new favorite burger place.
National Burger Day is on August 24, 2023, and what better way to celebrate than to try some of the best burgers in the Bay? We've rounded up some of the best burger spots in Tampa where you can sink your teeth into some of the juiciest burgers in town.
The Best Burgers in Tampa Bay
Tampa Bay Brewing Company
Datz (South Tampa location closing August 27, 2023)
Burger Culture
Goody Goody Burgers
Chicago's Best Burgers
Engine No.9
Thee Burger Spot
Shula Burger
Isaac's World Famous Burgers
TNT Burger
BurgerFi
Ford's Garage
Westchase: 13937 Monroes Business Park, Tampa, FL 33635
Ybor: 1600 E 8th Ave, Tampa, FL 33605
Ever wondered what a burger wrapped in pizza dough would taste like? Head to Tampa Bay Brewing Company and you'll be able to. Their Bomb Burger includes bacon, cheddar, and fried onion straws and is wrapped in pizza dough with a side of horseradish sauce made with their Florida Blonde Ale. Their menu also includes the Badass Burger (a two-patty burger), Brewhouse Burger, and Tatanka Burger, which is made with Bison. Be sure to wash down your meal with a freshly brewed Reef Donkey American Pale Ale or a Hop Silo.
St. Pete: 180 Central Ave, St. Petersburg, FL 33701
Riverview: 6264 Winthrop Town Centre Ave, Riverview, FL 33578
Datz is known for their unique food concoctions and their burgers are no exception. The Cheesy Todd, which has been featured on Good Morning America, consists of two grass-fed beef patties, American cheese, lettuce, tomato, red onion and pickle. What sets this cheesy masterpiece aside is how it's served – between two bacon-jalapeno mac and cheese buns! The Tampa Burger is a fun twist on the Cuban sandwich were pulled pork, ham, Swiss cheese, and pickles are served on a Challah bun. Other varieties include burgers made with salmon or pastrami.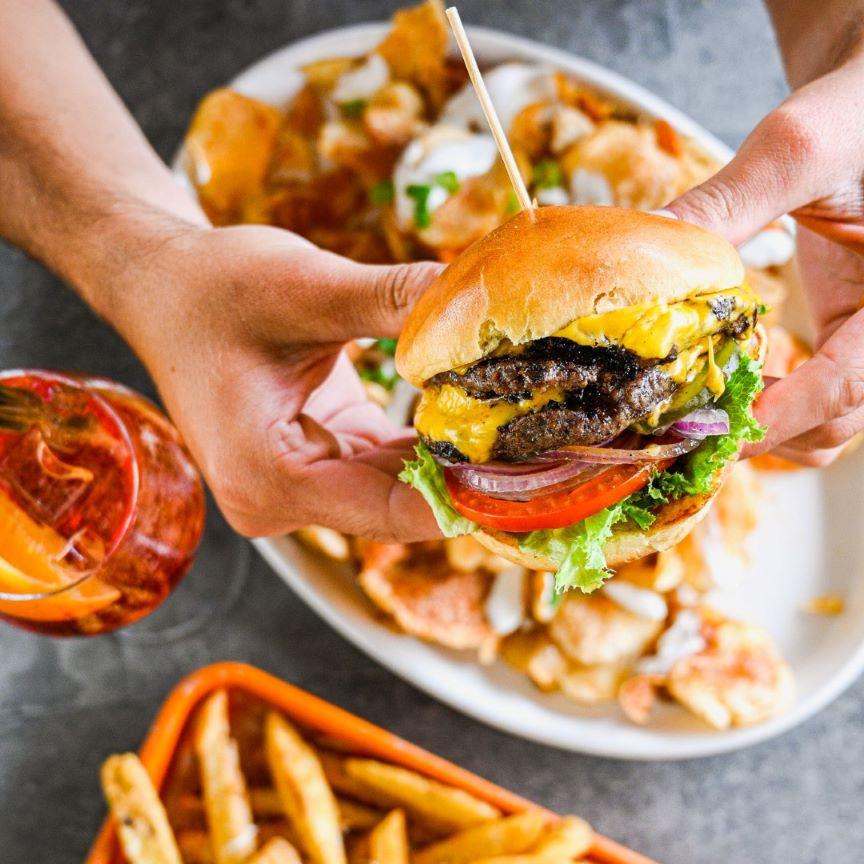 Carrollwood: 6920 N Dale Mabry Hwy, Tampa, FL 33614
Lutz: 15102 N. Florida Ave, Lutz, FL 33613
Burger Culture began as Tampa's first burger food truck! Now stationary with two locations, Burger Culture has raised the bar when it comes to hamburgers! The hot spot has the option to totally customize your burger even down to the protein! Burger Culture offers beef burgers, turkey burgers, bison burgers, veggie burgers, or black bean burgers! Not to mention their long list of specialty burgers such as the Cajun Burger with Cajun mushrooms, smoked gouda, and chipotle sauce!
1601 W. Swann Ave, Tampa, FL 33606
Goody Goody is an old school favorite with a home in south Tampa. Established in 1925, it's all in the special sauce that Goody Goody includes on their burgers. This is the best spot for a good old-fashioned burger, The Original Goody Goody Burger "Pox" (pickles, onions, secret sauce). Afterward, make sure to try a slice of the house made pie – especially their original Butterscotch!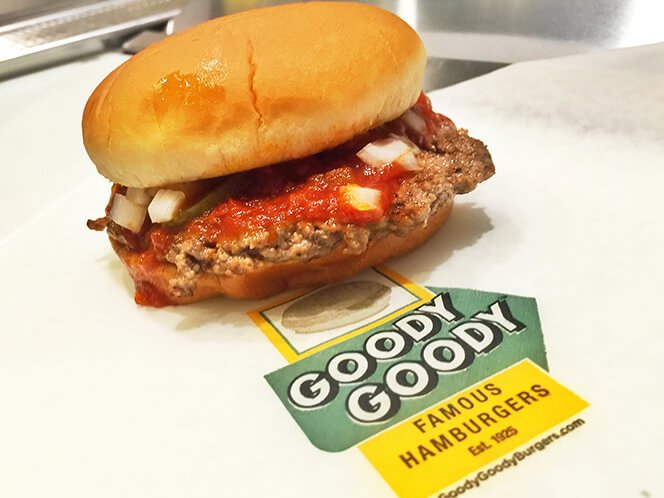 Brandon: 1925 W. Brandon Blvd, Brandon, FL 33511
Lutz: 19255 N. Dale Mabry, Lutz, FL 33548
Head over to Brandon or Lutz to enjoy some of Chicago's finest burgers and all that Chicago style cooking has to offer. Chicago's offers a variety of specialty burgers such as Chicago's Best Burger which includes 100% grass-fed beef atop a pretzel bun with pepper jack cheese, bacon, chili peppers, and a fried egg! If that isn't your type of burger, no worries, there are 12 other specialty burgers to choose from and the option to BYOB—build your own burger!
56 Dr. Martin Luther King Jr. Street North, St. Petersburg, FL 33705
Engine No. 9 in St. Pete offers perfectly cooked burgers from your standard bacon cheeseburger to something a little crazier like The Resurrection, topped with three types of bleu cheese, applewood smoked bacon, roasted garlic, jalapeños, sweet Thai chili sauce, and mashed habaneros.
Other popular burgers include the Demi-God (cheddar cheese, Swiss cheese, sautéed mushrooms, caramelized onions, and horseradish mayo), the Wine-O (red wine BBQ sauce, bacon, aged white cheddar, and fried onions), and the Goat Head (goat cheese, roasted red peppers, vinaigrette, and half-sour pickles). Munch on these burgers with one of the many delicious sides offered, including the famous tater tots.
3917 N. Tampa St., Tampa, FL 33603
Head out to Thee Burger Spot for 100% fresh meat, handcrafted burgers, and all natural ingredients! Thee Burger Spot serves up what they're calling their most wanted burger: The Donut Burger! The Donut Burger is a quarter lb. of beef with bacon and cheese piled high atop a Krispy Kreme donut! The Burger Place also offers a Taco Burger, The Crazy One, The Creamy One, Pizza Burgers, and so much more. If those gourmet burgers are too much, check out the more classic style burgers further down the menu! There is something for everyone at Thee Burger Spot!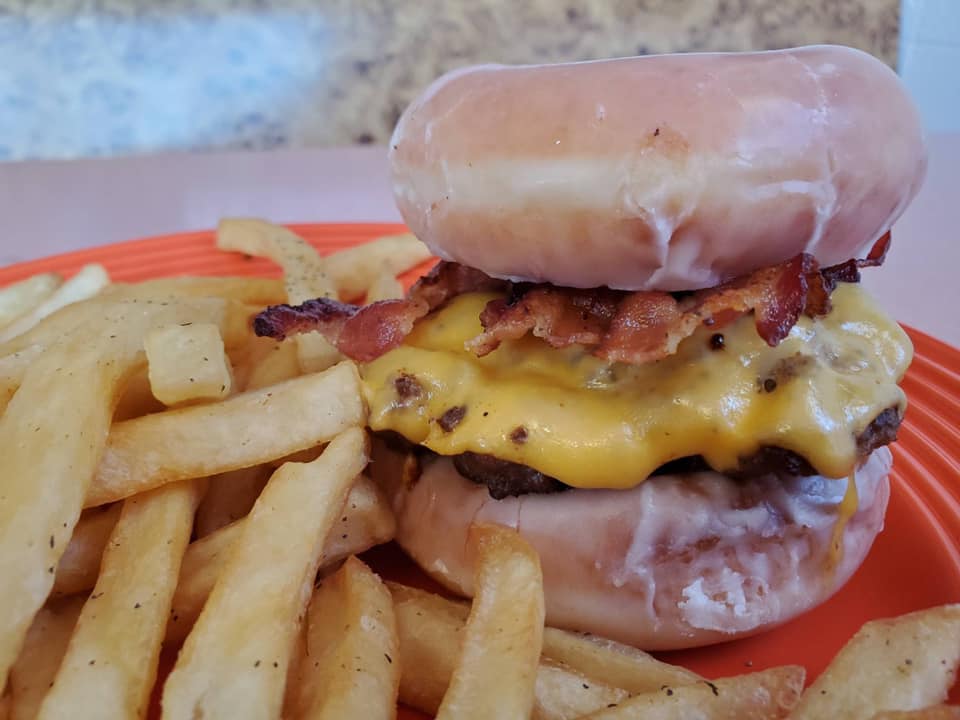 500 South Howard Ave, Tampa, FL 33606
Named in honor of the late NFL legend and Hall of Famer, Don Shula, Shula Burger is the perfect hamburger experience. Shula's burgers are made from Angus beef, short rib, and brisket for a totally unique take on the classic burger. Check out the Shula Burger which is the classic burger or the French Onion with caramelized onions, double gruyere cheese, garlic mayo, and crushed garlic croutons!
442 W. Columbus Dr, Tampa, FL 33602
Head over to Nebraska Ave for Isaac's World Famous Burgers! The eatery claims to serve up the best gourmet burgers in the Bay Area! The hot spot is a casual place with award-winning burgers, wings, chili, and fries. Their beef is always fresh and never frozen served atop delicious, locally baked buns! There are so many unique burger options to choose from such as the Maple Bacon Funnel Cake Burger or the Waffle Burger! So, come try something new or come in for a delicious take on the classic burger we all know and love.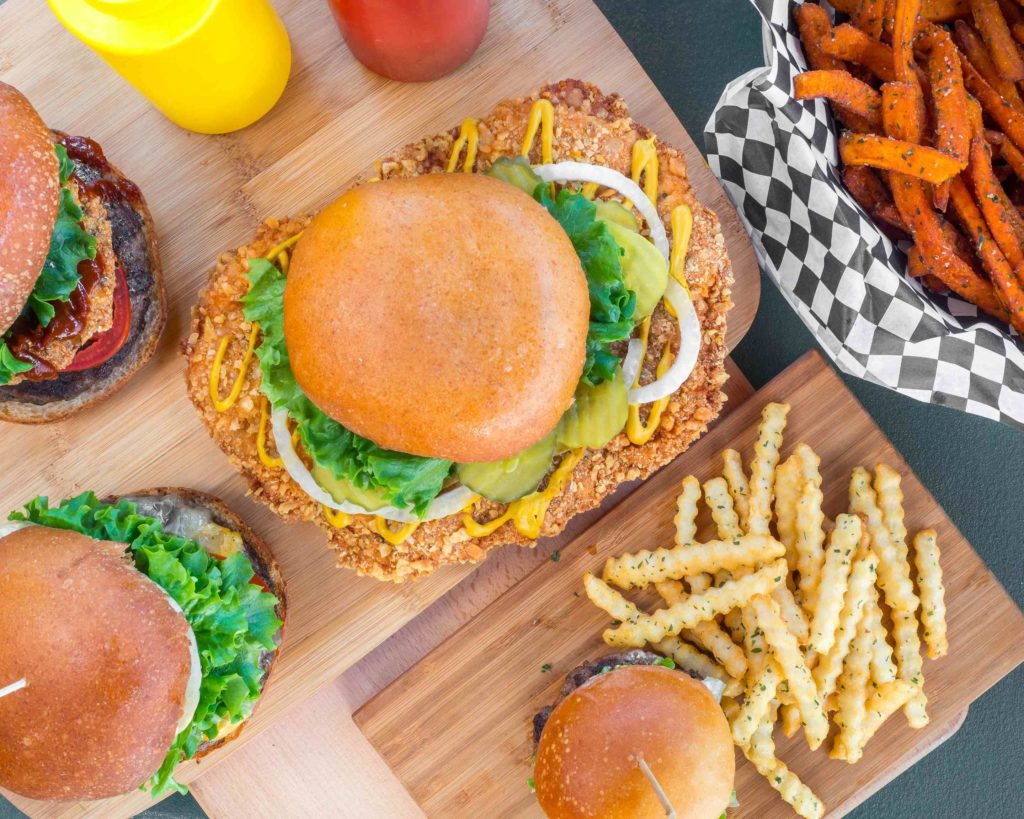 7206 N. Dale Mabry Hwy., Tampa, FL 33614
Voted on multiple lists as one of the best burger spots in Tampa, TNT burger cooks up some super unique concoctions. One of their most famous at the moment is the Covid-19 Vaccine Burger – Angus beef patty, caramelized bacon, crispy onion rings, fresh cheddar, lettuce, and tomato inside a brioche bun that's topped with a Covid-19 Vaccine syringe filled with TNT's homemade smoked sauce. Other crazy good combos include the Pork N Roll (burger topped with pulled pork), Bella Ciao Double Patty (two patties topped with mozzarella and seasoning), or the Santander Burger topped with an arepa and smoked sausage.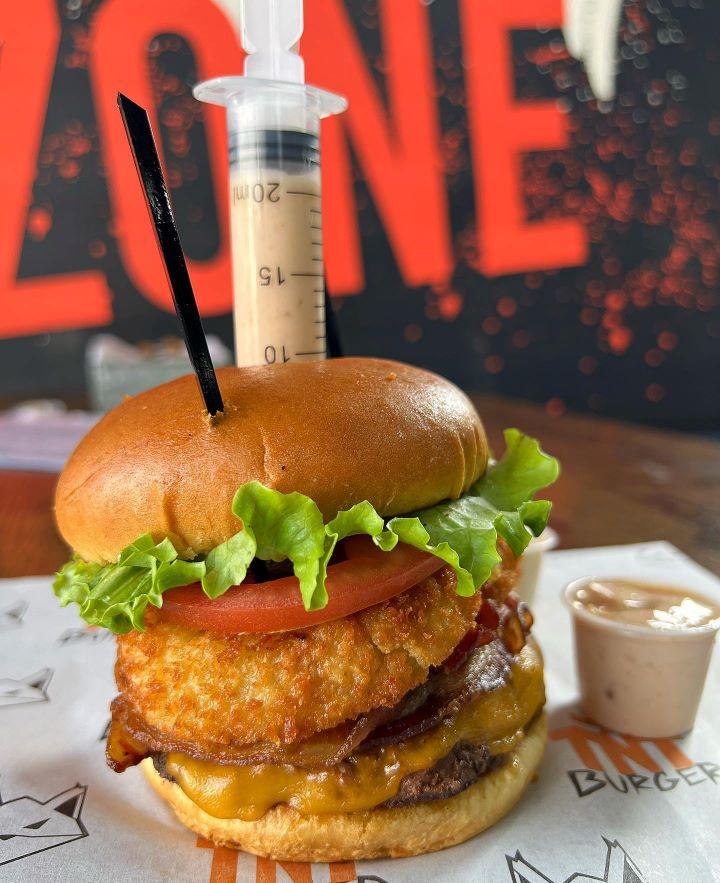 Locations: Westchase, Odessa, Tampa/SoHo, Trinity, Sparkman Wharf, St. Petersburg
This gourmet burger chain is cooking up 100% natural angus beef patties with no steroids, antibiotics, growth hormones, chemicals, or additives. BurgerFi boasts fresh, natural ingredients, making for the best quality burger. They are all about being environmentally sustainable and cooking up delicious food in the process. Endless toppings, including fried eggs and secret sauces, are available to customize your burger. You and your date can enjoy some of the best truffle fries or onion rings in town along with your burger and finish off your meal with house made custards and frozen treats.
Locations: Westchase, Brandon, Wesley Chapel, St. Pete, Sarasota
Ford's Garage is another gourmet burger chain known for their unique spin (and names) on their burgers. You can build your own burger using their patty made of a half-pound of ground Angus beef, or try something else like the High-Octane (Tilamook Pepper Jack, guacamole, chipotle ketchup, and fresh jalapenos), Model "A" (cheddar, applewood smoked bacon, pico de gallo) arugula and a sunny side up egg), or the Jiffy Burger – a cheeseburger topped with creamy peanut butter.
The restaurants are filled with paraphernalia from Ford Motor Company, including vintage cars and tires. If you've got a big appetite, before biting into a burger, try the Giant Funnel Tower of Jumbo Piston Onion Rings – giant crispy onion rings that are served stacked high on a platter.